November 25, 2021
We get it – it's Thanksgiving, which means every brand you've ever so much as glanced at is about to bombard your inbox with deals for Black Friday and Cyber Monday. We're watching consumption at its peak, conservation at its trough.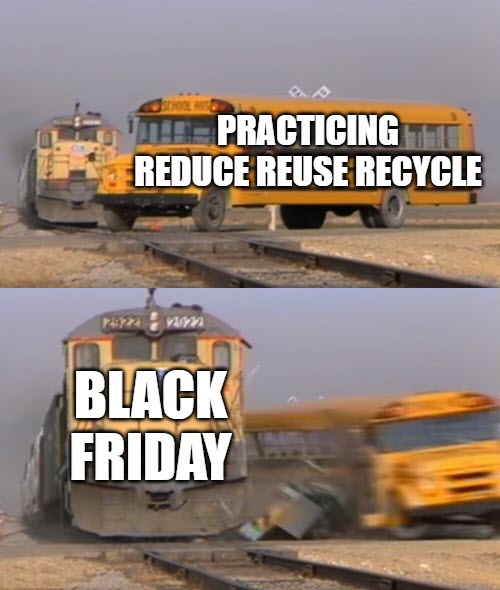 Relatable?
Many of us are engaging with consumption not necessarily for ourselves, but for those dear to us. Gift giving is a universal love language, a gesture of gratitude, a keepsake, a statement of "I'm thinking of you and care about you".
We aren't here to argue that everyone should gift less. We're here to nudge that everyone can gift a little differently, a little more sustainably. And to also shout out like-minded (non-affiliated) brands that are working towards a more abundant, less wasteful future.
Gifts for gentle self-care
Treat their skin to gentle ingredients and plastic-free essentials from For the Biome
Gifts for sounder sleep
Sleep in a cloud with Buffy comforter, made from recycled plastic bottles and water-efficient eucalyptus
Improve sleep quality with a Calm gift subscription
Gifts for greener eating and drinking
Keep your favorite drinks hot or cold all day with Yeti mugs, and yes, you can ask the barista to use your own container
Gifts for the creative
Gifts for the fashion-forward
Go circular with gift cards to local thrift stores, ThredUp, The RealReal, or other secondhand retailers
Non-stuff gifts for the minimalist
Learn from the best with a MasterClass gift subscription
Take up a new language with a LingoDeer gift subscription
Build mindfulness and reduce anxiety with a Headspace gift subscription
Jazz up the holiday with a virtual magic show
Make a donation in their name to their nonprofit of choice
Gifting is an art that gets progressively harder, ironically, as disposable income increases. Because then, if our gift recipient wanted anything badly enough, they'd just buy it themselves. The most elegant solution may be the simplest: gift high-quality daily items that one will always need to use and replenish, like dental care and shower products. Better yet, choose the zero waste form. You knew this was coming: Zebo is the perfect personal care package you can send to your loved ones, as a present not only for them, but for a less wasteful future too.
Happy gifting!