November 3, 2022
This conversation is the third installment of the Female Founder Forward series, where I chat with fellow women entrepreneurs about the amazing things they're building in the zero waste and sustainability space.
Deepti Brambl is the founder and engineer behind Kaylaan, a New York-based company focusing on innovative and highly effective tooth care products without plastic. Along with her co-founder and husband Wells, Deepti built this company on the foundation of one product that everyone uses every day – toothpaste.
I first came across Kaylaan on Etsy. At the time I was feeling admittedly frustrated with numerous toothpaste tablets I'd tried by that point. Some were difficult to chew, some tasted awful, and some lacked a minty aftertaste. The Kaylaan tablets had glowing reviews and I was running dangerously low on toothpaste, so I ordered a small pack to try. When I first bit into a tablet, the texture and taste immediately felt different – this was it!
Besides being deliciously zero waste, all Kaylaan products are also vegan, cruelty-free, and made of organic ingredients. The company passes the Zebo selection criteria with flying colors, plus – Deepti and Wells being the wonderful overachievers they are – recently earned a B-Corp certification. I couldn't pass up an opportunity to ask Deepti about growing up in the Himalayas, manually cranking toothpaste tablets at home, and steadily building a beloved brand.
Ming: What was your introduction to zero waste or sustainability?
Deepti: I'm originally from the Himalayas. When I was a kid, my family did all of our shopping by carrying our own bags to get groceries. We carried bottles and containers for milk, water, and other liquids. We also reused any old containers we had on hand. Plastic was scarce, so it was just something we did naturally – reuse everything we could!
Fast forward to coming to America, everything seemed like a dream come true: hundreds of varieties of food, an endless selection of clothing and jewelry. On top of that, finding out plastic was recyclable, I didn't feel as guilty about buying them.
But I didn't realize until a couple of years ago how bad the plastic problems were, and all the confusion around what is recyclable and what is not. For example, I would get vegetables wrapped in plastic, which I'd put in the curbside recycling bin. Little did I know that recycling facilities couldn't process these plastics, which ultimately ended up in a landfill. After I became aware of the massive environmental footprint I was creating, I couldn't keep going the same way. I was so overwhelmed by all this I started looking for alternative sustainable solutions. I was so happy to find many people like me who were already on this path, which made it easier to get started.
What do you find the most rewarding about this zero waste lifestyle?
We save money, particularly by buying dry goods in bulk, which also helps us reduce our carbon footprint and saves time by not needing to go to stores as frequently. And, we buy most of our produce from farmers markets and stick to a plant-based diet, which helps us stay healthier without trying too hard.
What do you find the most challenging about this lifestyle?
It's hard to ensure that a product has actually been made in an environmentally friendly way. So many labels claim to be eco-friendly, but provide no proof. Finding actually environmentally friendly products has become extremely time-consuming and exhausting, because of the huge amount of false claims out there.
What zero waste or sustainability advice do you have?
It's a great idea to switch to zero waste products, but that doesn't mean you have to change everything at once. What if you already have something in your home that will work just as well or even better? It is all about reusing what you have until it "dies". Then make a switch.
What's one thing you wish everyone knew about zero waste or sustainability?
Composting. Compost acts like a natural fertilizer to the soil. It's a gold mine for farming and cultivation.
One way you can help the environment is by composting your kitchen scraps. Instead of throwing them in the garbage, consider finding a compost location near you and dropping them off. If veggies are not composted, they will release harmful methane gas, which traps the sun's heat and warms our already heating planet.
How did you find the idea for Kaylaan?
I've been experiencing climate anxiety since I learned about our impact on the environment. In a talk by the founder of Patagonia, Yvon Chouinard, I heard him say that "the greatest evil in the world is knowing that we have the resources and tools but we decide to do nothing". This hit home hard.
Wells and I have the resources and tools, because I'm an engineer and Wells is a toxicologist. So we decided to combine our skills and at least give it a try to come up with a product that is eco-friendly and benefits people.
We did an audit of products that created the most trash, and discovered it was toothpaste. After researching, creating an ingredients list, and putting a plan together, we started the project at home. We tested it out with friends and family, but thinking, "friends and family obviously will support us", we tested on Etsy for organic feedback with the hope that people will be forgiving if our product sucked. But we were thrilled to see that people were loving the product and we quickly became the bestseller. That was a reaffirmation that our product works, which was a huge confidence boost. From there, we started the business plan and scaling process.
What was the first step you took towards starting a business?
We first tested our ideas with a homemade tool to check if we could form a tablet from the ingredients we put together. We then bought a manual hand crank tablet pill press. We didn't know anything about how to make tablets; it was a completely new skill that we had to learn. We did a lot of variations. It was the 87th batch that we were like, "yup, this is the one." At this point, it was still a project, we never thought we'd become a company. Etsy really gave us that push.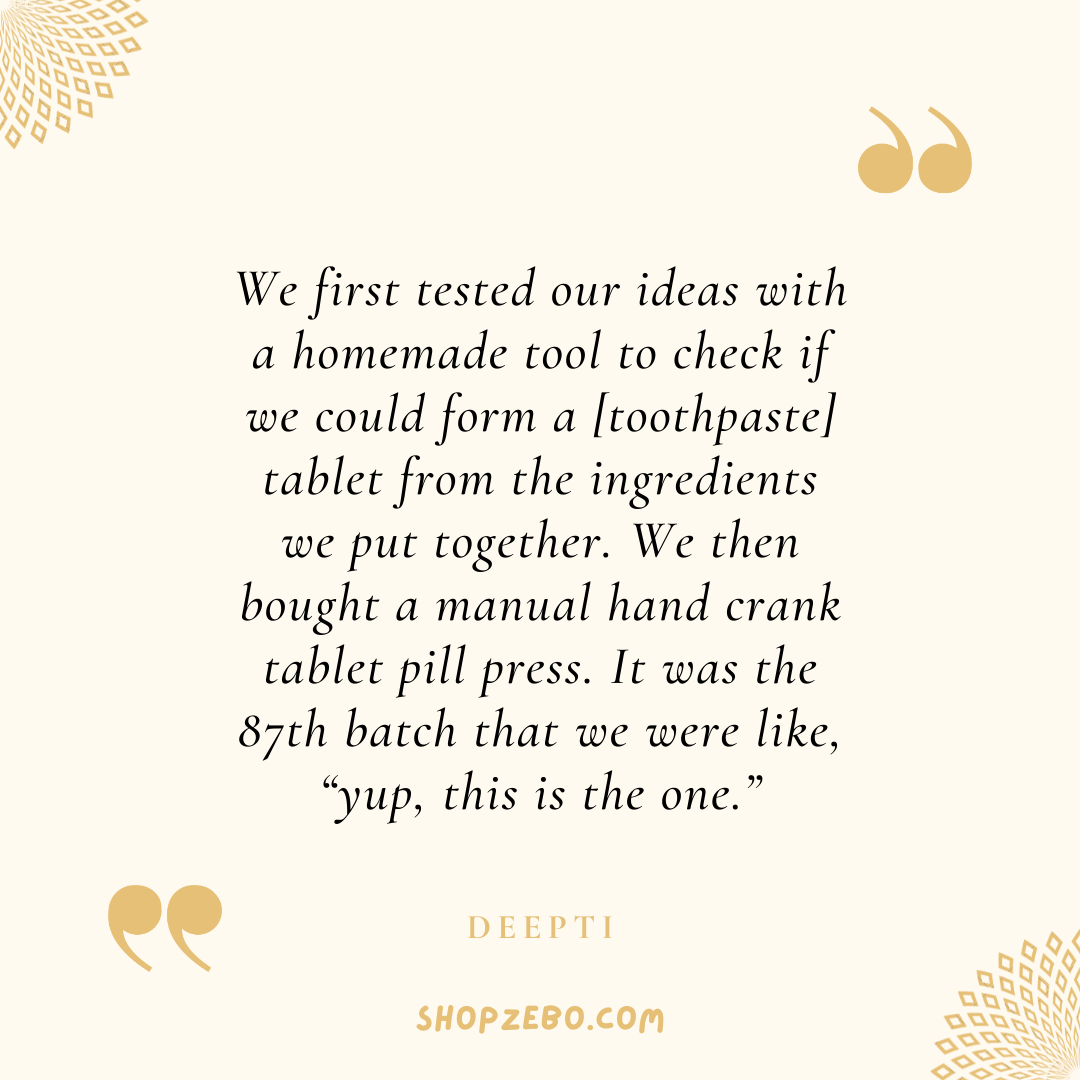 When we started the journey to become a brand, we knew our brand would put the planet over profit. So we focused on getting a B-Corp certification. We also knew the importance of fluoride in the toothpaste, so we worked to get FDA clearance to add fluoride. Both processes were gruesome, but the outcome is completely worth it.
How did you get your first 100 customers?
We used Etsy as a platform. We'd never done online sales; when I was filling out the company profile, we were very honest about our product and why we were doing it. We put a page together with the product images taken from our cell phone. I remember when the first order came through, we were so excited that we printed her name in BOLD and put it in our shipping room. She's still our customer. I think people liked that we were authentic and genuinely cared. We asked for a lot of feedback, took it seriously, and sent customers samples with the tweaks we were making. I think people liked being involved. They were so forgiving when we made mistakes. Those 100 customers are still our customers.
What's the best thing about being a founder or running a small business?
The opportunity to grow as a person, and grow the business to a certain extent. I'm a woman of color and recently got my American citizenship. Being an immigrant woman of color in tech, I know that even though I was as capable as my male counterparts, I wouldn't have been given an opportunity to remotely do what I am doing as a small business owner because of role and gender inequalities. With my business, I get to employ people from all walks of life, from different backgrounds and cultures. It's a very diverse environment.
What's the hardest thing about being a founder or running a small business?
At the beginning, the hardest part was loneliness. You see your friends going out and having fun, going on vacations and adventures. But when I decided to take a break, I'd experience guilt. Over time, I've learned that it's important to reset, to give your body and mind some rest.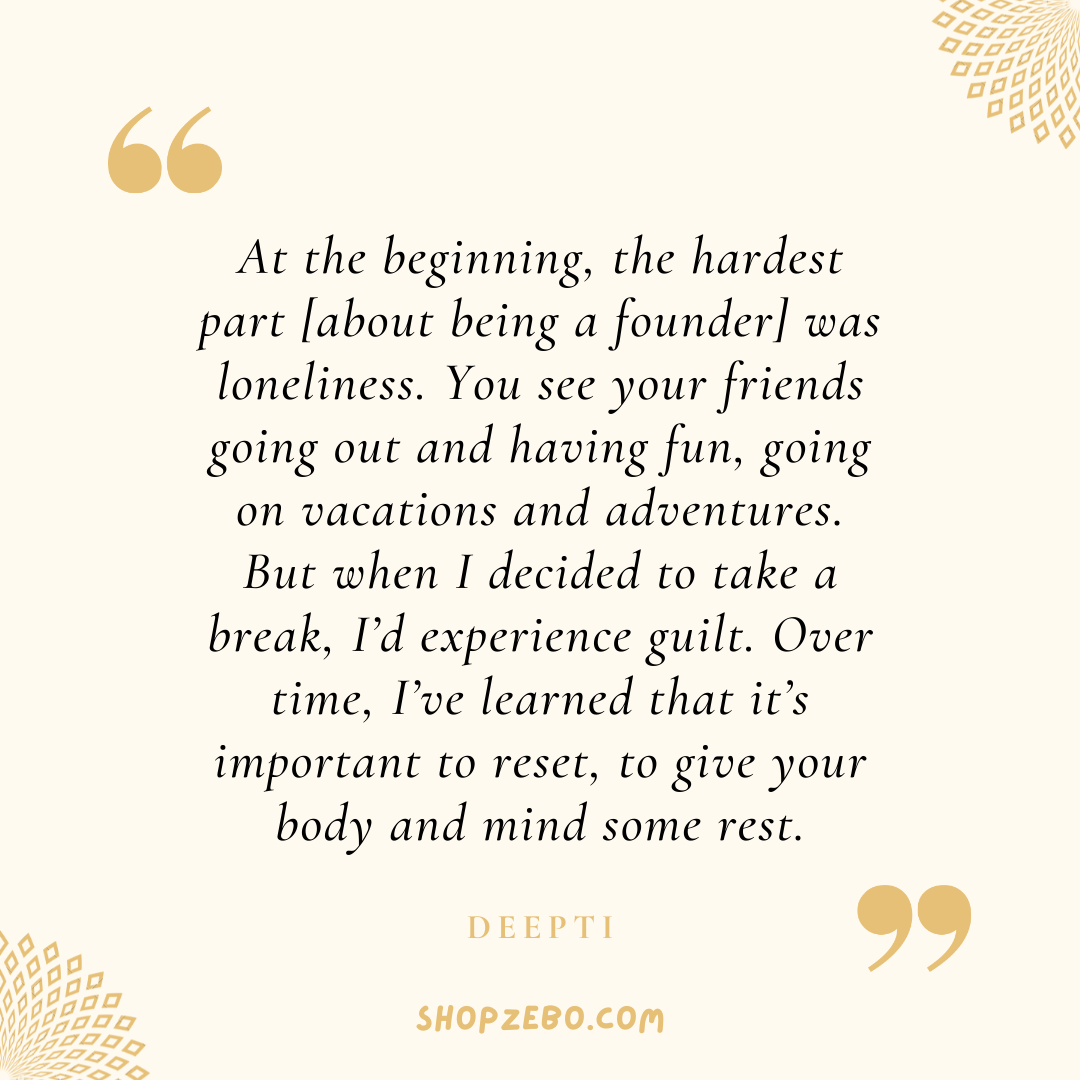 We learned early on that it's a lot easier to delegate than to figure out how to do it alone. There will be some growing pains and setbacks along the way, but once things are defined and carefully documented for everyone involved, delegating becomes much easier and saves time.
Was there ever a time that things got so hard, you wanted to give up? How did you break through?
The machines we bought offered zero training. The only thing we could do was learn how to use our new equipment and fix it when it broke. No online tutorials or information could help us cater the machines, but if there was one, it would've been industrial-level training and not as useful for our startup. To make matters worse, every time we upgraded the machine, we had to completely relearn the ins and outs of the new machines.
Tablet formulation was another skill that we had to learn. We spent countless hours figuring out why the tabs were disintegrating. We had to do a lot of trial and error to finally figure out the process. We almost gave up, thinking "we both have full-time jobs, why are we doing this?" But being persistent, getting some rest, and thinking through the problem from different angles helped us make gradual progress. They are heavy machinery, we had to be patient with learning how to operate them. Failing as many times as possible helped us learn the intricate details.
What's a little-known fact about your company?
Kaylaan is about feeling blessed and happy. When I used to say Namaste to my grandma, she used to pat my head and say Kaylaan. That's spelled Kailaan. As that domain name was taken, we got creative and rearranged the letters but left the original meaning.
If you could travel back in time to before you started this business, what would you tell yourself?
Take it easy. Get some rest. This is not a sprint, it's a marathon. I was running around like a chicken with no head. There was so much to do and so little time, but had I prioritized the work properly, I could've alleviated some of the headaches.
What's important to you as a founder, to Kaylaan as a company that I haven't asked?
The opportunity to impart your story is important for me. As an immigrant woman of color, I've faced so many struggles throughout the process. It's important to me that Kaylaan provides opportunities and creates an environment for people to thrive.
Where can people find you?
On Kaylaan, Etsy, eBay, and refillery stores around the country. We are on wholesale marketplaces like Faire and Tundra. We recently launched on Amazon.
I'd like to end on a personal note. When do you most feel like yourself? Are you with anyone, and what would you be doing?
I love spending time with Wells. We love going on long bike rides and cooking together.
Kaylaan completed my zero waste dental routine and is fueling Zebo to help others switch, so I really appreciate what you do Deepti. Thank you so much!
This interview was edited for length and clarity.