August 1, 2022
This conversation is the second installment of the Female Founder Forward series, where I chat with fellow women entrepreneurs about the amazing things they're building in the zero waste and sustainability space.
As I embarked on zero waste a few years ago, No Tox Life popped up almost everywhere in my search: a novel waterless dish soap called "DISH BLOCK®", beautiful body bars, and the intriguingly-named "lip butter." I was skeptical, but decided to give it a try. Wow. The lavender earl gray lip butter worked wonders on my constantly chapped lips. Finally, no more Vaseline! Their soap bars—body, hair, DISH BLOCK®—have since become staples in my home.
When I was researching and putting together a supplier list for Zebo, No Tox Life was a must-have. From working together over the past year, I connected with its co-founder and creative director, Callie Milford.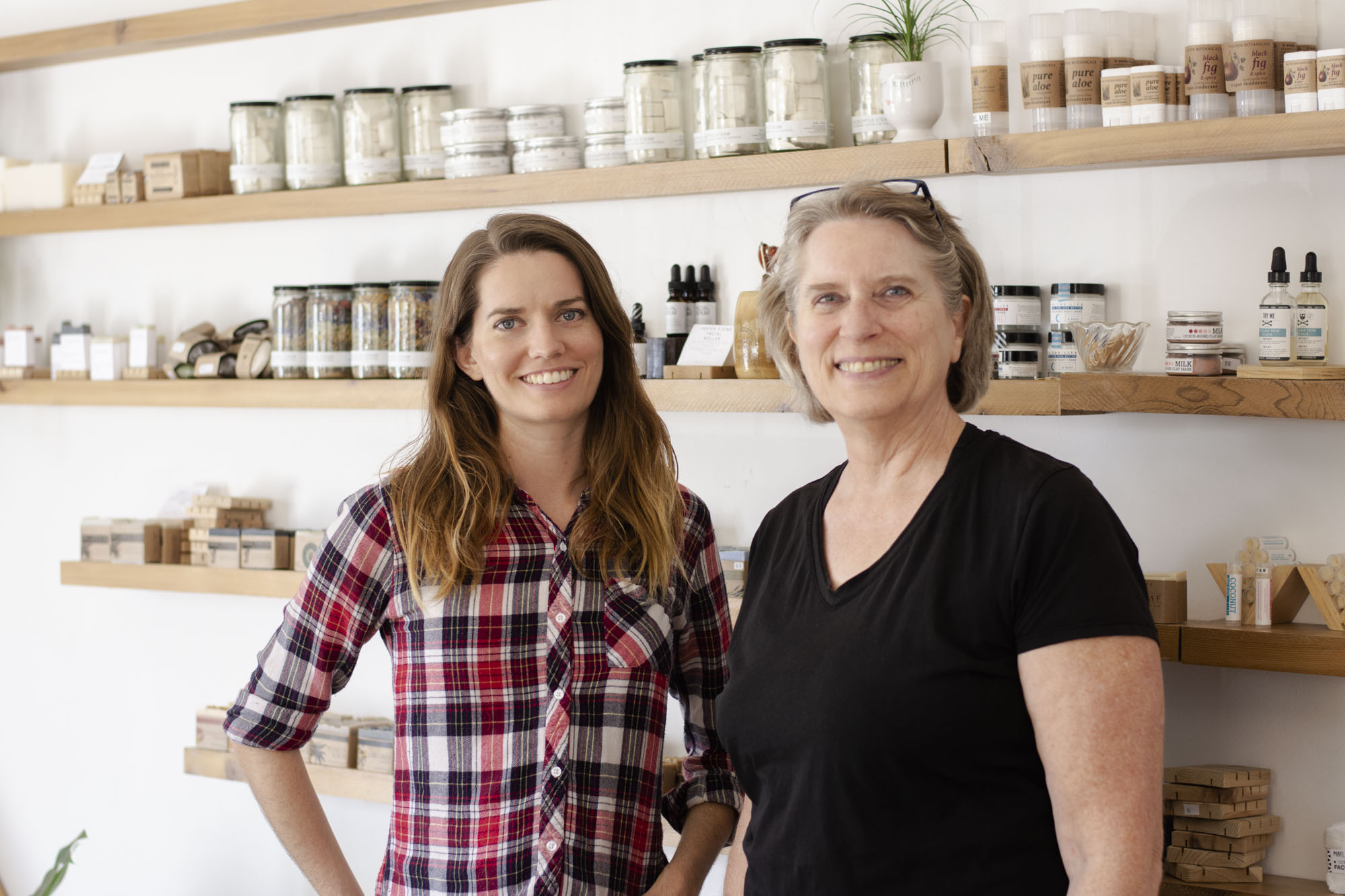 Callie and her mom Sandee Ferman co-founded No Tox Life. It's a family business born from the desire to make body and home care effective, vegan, and waste-free. I got to talk to Callie about how she began at No Tox Life, how the company steered out of near-insolvency, and how she went viral on TikTok (spoiler: it has to do with armpits).
Ming: What was your introduction to zero waste or sustainability as a concept?
Callie: At the very beginning of No Tox Life, we were unintentionally doing zero waste. My mom started the company, I had a full-time job so I was helping her on the weekends. She would do research, test things, and on the weekend we would go to Hollywood Farmers Market. Because we were new and didn't have a lot of fancy packaging, we had a lot of package-free products. We were selling raw bars of soap, with the ingredients listed right next to them and as little packaging as possible, because it made sense and saved time. People there liked seeing the raw unpackaged products.
As we got more professional, we started noticing that people would gravitate towards pretty packaging. We had various liquid products and needed to bottle them. There's a huge price difference: plastic is a tenth the price of glass. Early on, we liked doing glass, but we didn't want to make products too expensive because people are price-sensitive at the farmers market. So we chose plastic, thinking, "Plastic can be recycled and we'll just do that!" People seemed to be fine with the plastic, and we didn't know it can't actually be recycled. We had some things in glass, a lot of things in plastic.
Then we opened our brick and mortar store about two years into the business. One lady would come by a lot and request no band labels on the soaps—which I was insulted by, because I was like, "You don't like my labels? They're so nice!" [Chuckles] I designed all of them.
This lady was a very loyal customer, she was always asking about bringing her reusable tote bag, refills, and giving back the labels. Other people would come in and say, "I like it, but it's in plastic." My store manager and I were like, "You guys don't understand, glass is really expensive!"
Finally, we did our own research and realized, ooooh, this is a problem. I called a manager at the Burbank recycling plant in Los Angeles. Burbank is a very developed city and has a full trash and recycle green bin system. I was asking her what happened with the plastic—this was a few years ago—and she was like, "Most of it is going to landfill."
At least she was honest about it...
Which is crazy! People fill up their entire bin every single week and a lot of it is plastic. We educated ourselves because we were trying to understand why our customers wanted no plastic.
My mom and I were like, "We should do something about this." It's all well and good for us to be the most organic, natural, non-toxic company. But if our products are in plastic and the plastic is going who-knows-where, we're not very responsible as a company. "I'm organic, but I throw away my plastic somewhere else." So we started coming up with solutions, testing new things. That was our very long introduction to sustainability.
Because of consumer demand, it was a gradual process for you to realize the responsibility you had was not only to your customers' health, but also to the earth to make sure nothing bad or toxic is left behind.
Exactly. I think you have to be willing to, as a company and as people running the company, be wrong. We thought we were making the products less expensive using plastic, but it was short-sighted and not being responsible for the bigger group—humans on the planet. Your own customers are a tiny group.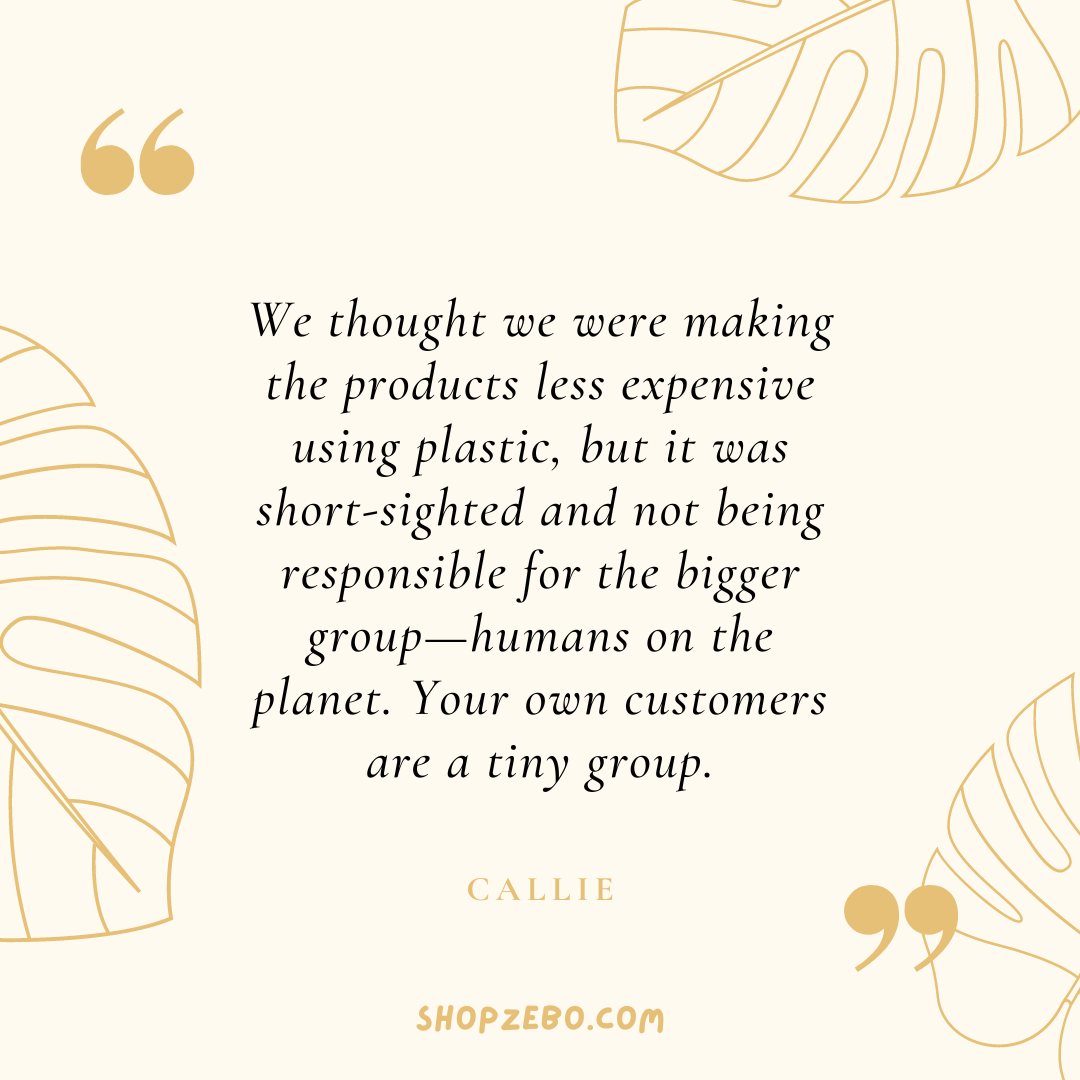 Was that also the point when you picked up a zero waste lifestyle yourself?
Disclaimer: it is not possible to be zero waste, but I reduce waste as much as possible. With COVID, it's been very difficult because of all the single-use masks, bags, sanitizers. I feel like everyone was on a better trajectory, then COVID was a big setback.
I picked up a lot of zero waste tips from customers. A local community composting organization is operating 40 composting locations inside community gardens. I did a video with them and learned how to compost. My parents were already composting but I didn't really understand it. These professionals explained it in a super simple way: you put the green, you put the brown, green, brown. So I started composting.
We built this compost bin out of old doors that I found on the street, so it didn't have a top. We were like, "Why is our dog getting bigger? We're feeding him the same food." One day we opened the back door and heard a noise, he's in the bin. He loves the stinky smell.
That's funny and adorable. What do you find the most rewarding about trying to live low waste?
I feel like this is cliche, but saving money. The book from Anne Marie Bonneau, Zero Waste Chef—I haven't done everything in the book yet, but she started to make "don't waste your food" popular. Making meals from whatever is left in the fridge is a no-brainer to me, but let's say I overbought something or I tried one and didn't like it, I will try to give it away on a Buy Nothing group or Facebook Marketplace. Or a cooking challenge: I don't like zucchini that much, so if I have zucchini, what can I make? A zucchini bread, or stir-fry.
I find that aspect of less waste being more economical is the most fun, because it feels rewarding.
A misconception is that going zero waste requires a lot of additional stuff and therefore money, but that's not true. If we just consume less and use what we have, that saves money. Every time we throw something single-use away, we throw money away because nothing came for free.
I think a very overlooked aspect of zero waste is saving money. We have a family Amazon Prime membership because I cannot get my husband to cancel it. But I'm at the point where I just don't buy stuff. If I started to buy a lot, I'd be super broke.
What do you find the most challenging about living this lifestyle?
Trying to get other people on board, especially spouses. Maybe they don't understand why I want to save these jars or get that thing for free on the side of the road. Trying to convince someone in your own family is hard, much less people outside your family. With some friends and family, I go to their houses and just keep my mouth shut, because I don't want to sit there and start criticizing.
At some point I feel like I have to say something, but the conversation needs to be gentle. You need to appeal to them in a way that the person can accept. You're not going to get very far being militant or criticizing them. Come up with ways to show them how zero waste is better.
Today, with bad inflation, with grocery prices being way up, it's probably a good time to introduce some ideas because you can show people the benefits. Have you tried growing your own tomatoes at home? Do a container garden? Now that you have tomatoes, you need fertilizer. The best way to get fertilizer is composting.
If you're visiting friends or family and they're wasting food, show them the cooking challenge. Food is really expensive!
It's the psychology of persuasion: finding reasons that people resonate with most. Money and health are pretty common reasons. One way I tried to convince my vegan friends is that plastic waste ultimately is an animal welfare issue. Things we throw away are out of our homes, into animals' homes.
Exactly.
How did you and your mom find the idea for No Tox Life?
I had a job that I didn't like very much. On the side I was doing a lot of other things. I read a blog about making your own Christmas gifts and making soap. "This looks really fun!" I sent it to my mom. She had sold another company and was in between doing anything big, so she decided to learn how to make soap.
She made these really ugly soaps, got scarves from the thrift store, cut them up, and made furoshiki wraps for the soap. We gifted them to friends and family. She went to a conference that my dad was at; they had a wives outing and she gave soaps to them. A lot of women were saying, "You should start your own business." My mom was thinking, "I don't want to be a soap lady!" But my dad's skin was getting better from her soap, so she started doing more experiments and just having fun.
One day she was at the grocery store and getting what she thought was her natural shampoo. Now that she knew more about ingredients, she was looking at the ingredients and decided, "This is not what I want to put on my body. I can do something better." She came up with the idea of No Tox Life, making things that she knew other people would want, that are better for you.
She told me about it, I was like, "That sounds cool." I started helping her with packaging design, photography, product ideas, and weekends at the farmers market. After a year and half, I quit my job and decided to do it full-time with her. Now we're business partners.
Do you remember how you two managed to get your first hundred customers?
The first customer was her personal trainer, buying a bunch of products to gift to all the other clients. After that, it was selling at popups. We did church popups, which did really well because it was part of different charity events. "Oh my gosh, somebody spent $70!" We literally made all these things in my mom's kitchen, so it was big for us at the time.
We had high expectations from the church events. Then the first day at the farmers market was the worst day ever. We did not know what we were doing. Our display was terrible. You couldn't even see what we were selling because we had it all flat on the table. We were there for eight hours and maybe made $150. I told my mom, "This is bad." She's like, "Don't be hasty, let's think about it."
We had one week on, one week off at the farmers market. On our off week, I was like, "Let's go walk the farmers market and observe what people are doing." So we walked around and made a list of ideas. The next week, we executed that. We set up displays that raised up the products, I designed some signs, we changed the way we arranged the table cloths, we changed the way we were dressing to fit with the market. It's the presentation—we figured that out the hard way.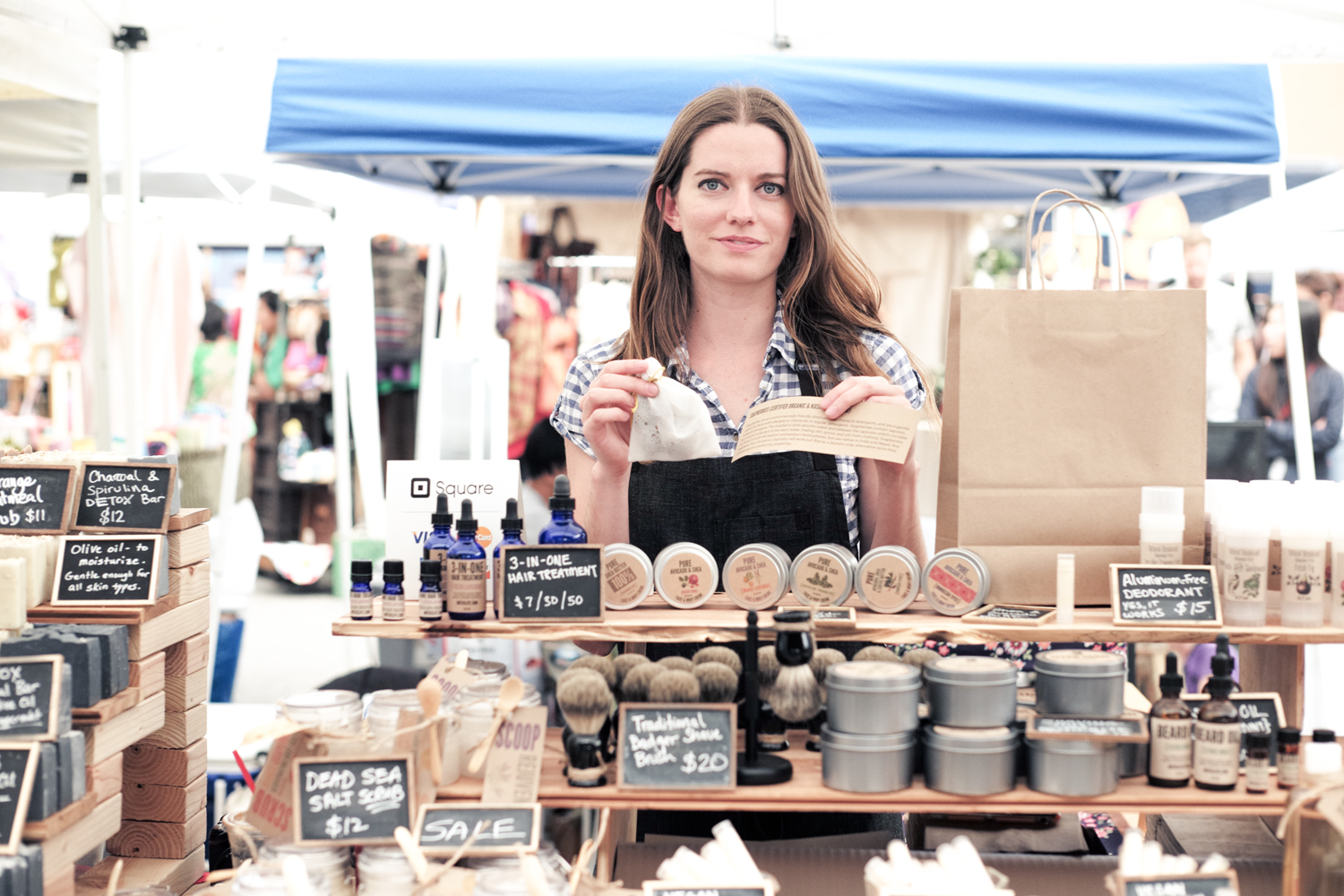 From that week on, sales tripled. We kept improving from there. What's good about farmers markets is getting customer requests, and my mom would figure out how to make those. Then the next week we would come back with that product.
Starting out, a lot of face to face time with your customers is so important. It's been a few years since, what's the best thing to you about being a founder?
My mom did start with formulas and testing; at some point I took over. I'm the crazy idea person who's like, "Let's do this! Let's do that!" I really like formulation, because it's creative but scientific. It appeals to my perfectionist side.
It was my idea to do the solid dish soap—we were the first on the market. The shampoo and conditioner are my formulas. I spent an entire year formulating the shampoo. I kept doing a ridiculous number of tests, and finally was happy. Most people would be fed up with how many times I wanted to do something different, but it's fun to me. Not that perfection can be achieved, but let's get as close as possible. It's mixing science, art, and cooking.
Your love for making products truly shows. What's the hardest thing for you about being a founder?
It's changed over time, but one for me for a while was customer service issues. "I bought this and I hate the scent." My initial reaction as the creator is, "Well, you're wrong!" [Chuckles] But I learned to understand and come up with a solution. Now I feel confident dealing with those, but it took years for me to get to that point.
Another challenge was managing employees. When I worked at other companies, I wasn't a manager of people. I have to remember the employee is not working seven days a week like me.
Was there ever a time when things got so hard that you wanted to give up?
Day one at the farmers market [chuckles]. I was like, "I'm done." That was without experiencing enough of the fun. Since then, a couple of points have been difficult for the company. Five years ago, we were underpricing and inefficient—we had 36 deodorant variations, 50 kinds of candles, 50-60 kinds of soap. We also started doing wholesale. We had to buy more of the expensive essential oils to fulfill a retailer's wholesale order, which didn't sell well for everyone else. We were making that special batch just for her, at wholesale pricing. It was completely unsustainable, driving ourselves crazy and losing money.
We looked at our bank account one day and were like, "This is bad. We aren't going to be here next year." My mom and I sat down for hours and went through everything, including our purpose for the company. We wanted to make non-toxic, healthy products, and we also want to reduce waste. Some of the things we were doing didn't fit the purpose, we're doing it because it would be fun or somebody asked for it. That whole process of revisiting our mission was good, even though at the time it was scary. We could move forward with clear goals instead of all over the place.
During hard times, going back to the why and working backwards helped you break through.
Exactly. COVID has been a big challenge. We ended up closing our store in LA, which was sad. We enjoyed having the store and our manufacturing facility right next door, but our greater part of the business is selling to other stores. Now that we're in about 2,000 stores, it doesn't make sense to have our own.
With COVID, we had issues with ingredients, suppliers, shipping costs, labor costs, just everything.
How are you navigating that?
So far we haven't raised almost any prices, but I think we will have to at some point. We have to plan way ahead. Let's say we need this one ingredient, suppliers are like, "Price went up and new lead time is 12 weeks." Even packaging—our local box maker was out of our paper. He managed to get it but had to pay a lot more, so we had to pay a lot more.
Things are really difficult right now for physical goods, I relate a lot. Kudos to you and your team for working through it. What's a little known fact about No Tox Life?
We designed our logo in 20 minutes. I thought my first design was great, my mom thought it was terrible. I was like, "Well what do you want?" So I was at my computer, she's sitting next to me telling me what she wanted. I hand-drew it—not even symmetrical. But it shows a human with arms outstretched, or mountains and a rising or setting sun.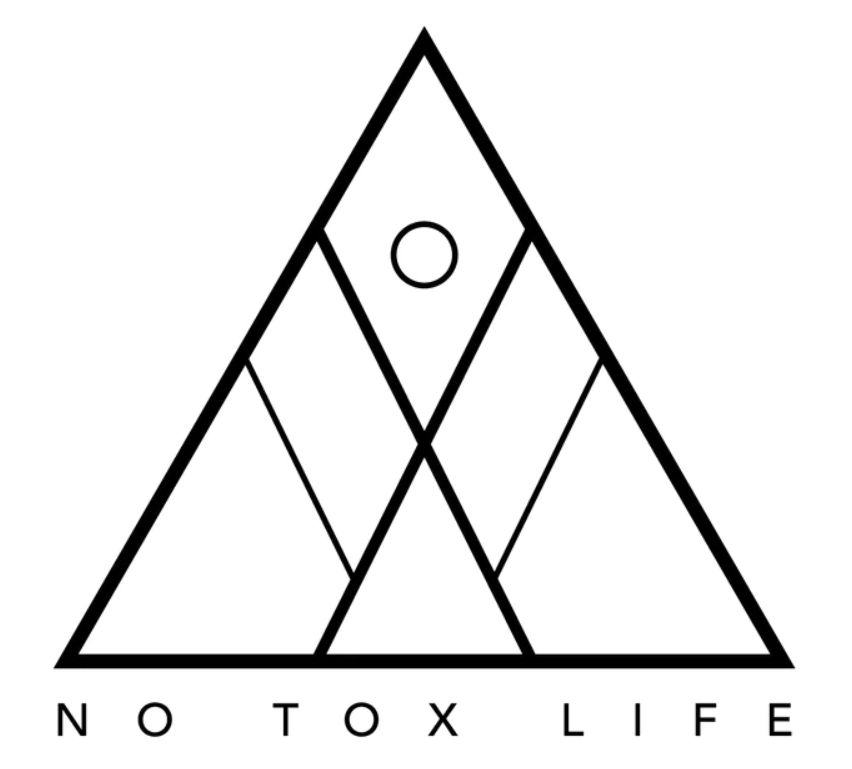 That's what I see! I have to go back and stare at it until I see the person.
The idea was human in nature. I don't think it's the best logo ever, but we did it in 20 minutes and are still using it eight years later.
If you could travel back in time before you joined No Tox Life, what would you tell yourself?
Probably ask customers and survey them sooner to get the answers. They will tell you what is needed. I think a lot of businesses don't have enough interaction with customers. We did a lot, but if I had done more earlier and consistently, I think the evolution of the company would have gone faster.
That's really timely advice for me. I'm in the early stages of building a business online, which calls for even more intention to set aside time to reach out. So thank you. Where can people find you?
Most major cities will have a store that has our stuff. Our website is notoxlife.com. We're active on Instagram and TikTok. I'm trying to do more videos but I feel 10 years too old for TikTok.
I feel the same.
My first video was me showing how to use a zero waste deodorant. It went viral—between TikTok and Instagram, two million views. It's literally me and my hairy armpits putting on deodorant. I think it's because of the arguing in the comments. People were like, "Oh my god, your armpits are disgusting, this is nasty." I don't shave my armpits everyday, sometimes it's a week or two, there's some hair. Other people were like, "That looks interesting." Those who were interested in or had tried the product were getting mad on my behalf. Honestly, I was just trying to answer somebody's question on how to use the deodorant.
Who would you like to hear from?
I'm always interested to hear if people have ideas and things that they want to see from us. Things that they think no other company is doing and want us to do. There's a form at the bottom of our website with product requests.
I'd like to close on a more personal note. When do you feel most like yourself?
I feel the most like myself when I'm being creative. I have so many ideas constantly. The most fun about the business for me is having the vision and working backwards to execute. You come up with the formula, shape, design, packaging. It's an artistic expression. Getting other people to have that fun product experience and knowing that we created it is the most fun to me.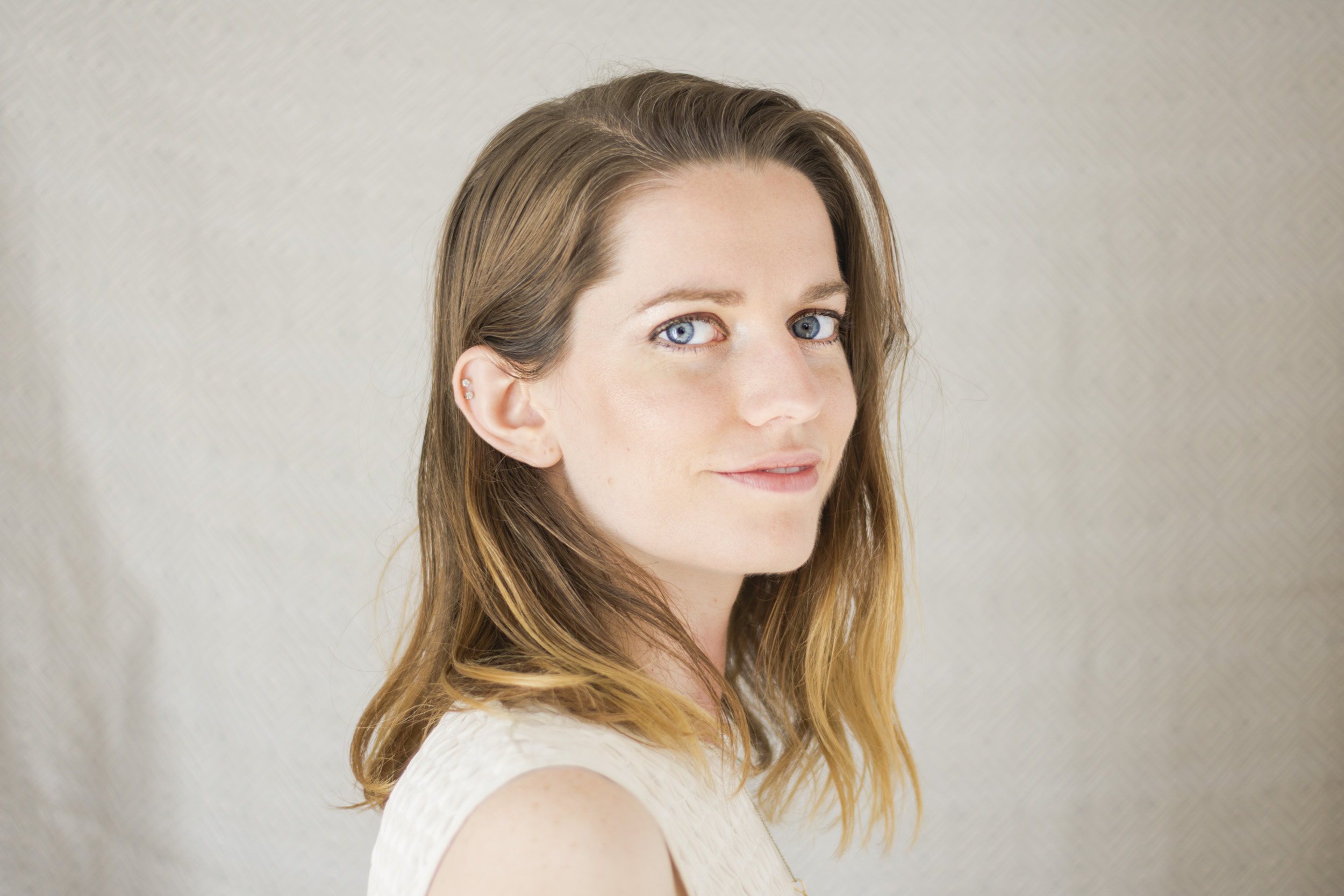 It's wonderful to not only have an expression for yourself but a way to connect with others and inspire a lifestyle change.
I feel like there's too much of zero waste being the modern hippie movement—better for the environment, but it's going to be really hard or really expensive. The switch should be intuitive and at an accessible price point. That's what we want to bring.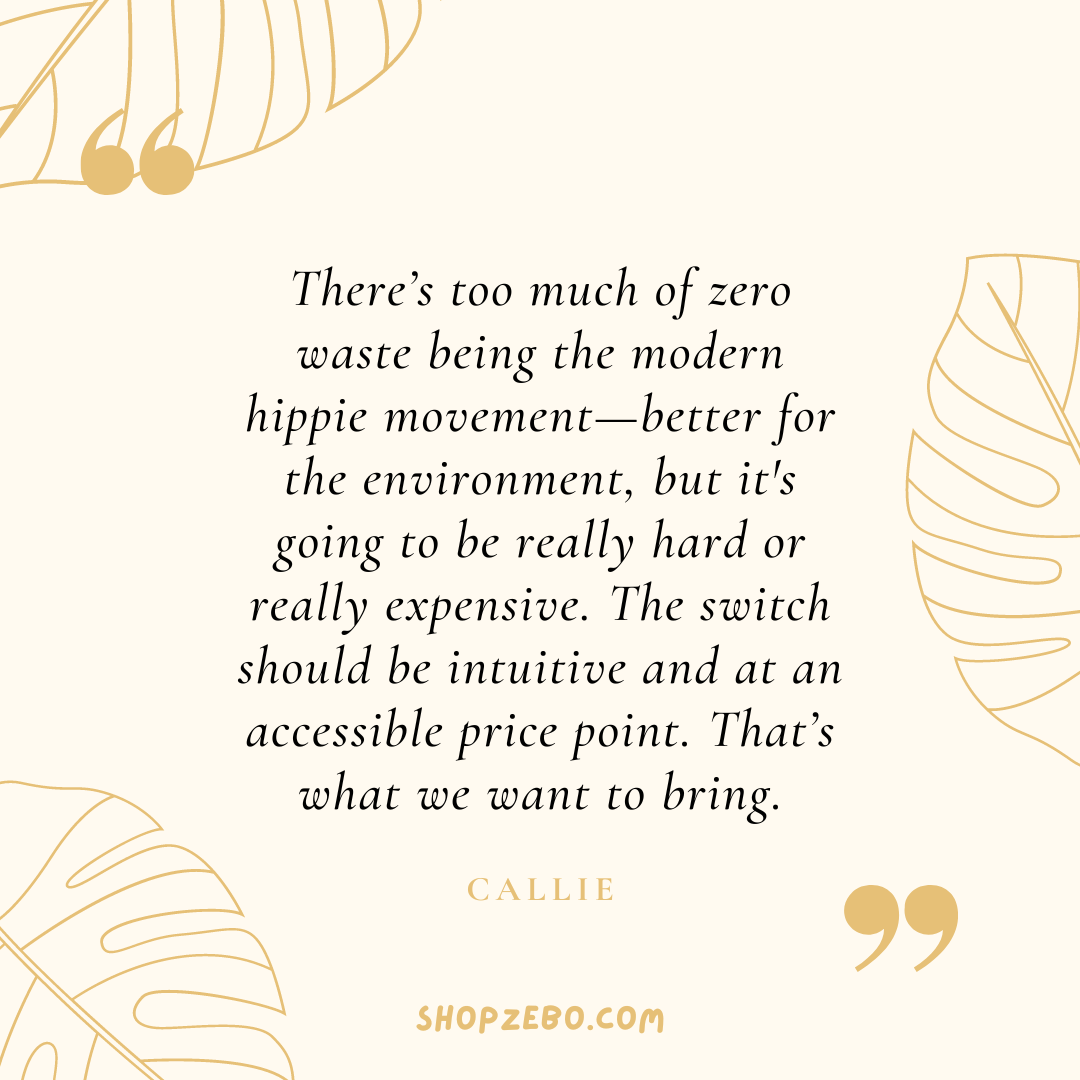 You enabled my switch, and are also helping me enable other people [with Zebo], so I really appreciate what you do and your time today. Thank you so much!
This interview was edited for length and clarity.